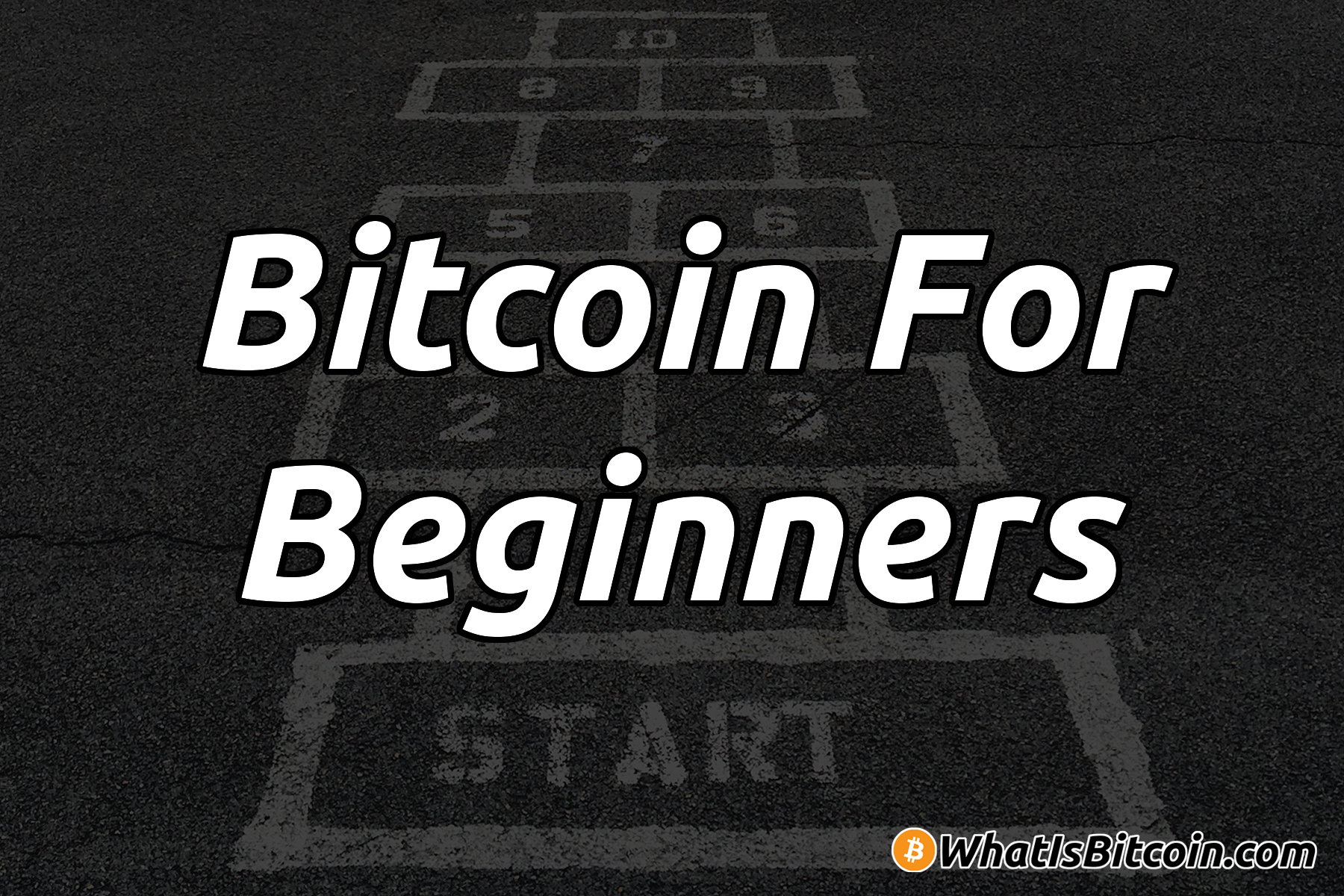 Welcome to Bitcoin for Beginners. We have constructed this course to help new users learn more about bitcoin and how it works. Once you have completed the Bitcoin for beginners course, you should have a solid understanding of the different types of wallets, how to send and receive bitcoin payments, how and why to HODL, 2FA, bitcoin faucets, who Satoshi Nakamoto is, what a blockchain is and much more.
Let's get started!
Bitcoin For Beginners
Bitcoin for beginners is focused on bringing new users into the bitcoin space and helping them to understand all of the most basic concepts. Learning about the different types of bitcoin wallets, how to buy your first bitcoin, sending your first bitcoin transaction, what the blockchain is and everything in between.
If you have any questions, please feel free to send @WhatIsBitcoin a tweet.
What Is Bitcoin?
Bitcoin is the worlds first successful digital form of cash.
Where Do Bitcoins Come From?
Bitcoin come from a relatively complex process called Bitcoin Mining. We've written a rather extensive article on it that you may find helpful.
It may also be easier to understand bitcoin mining explained as solving a Rubik's cube.
Don't worry too much about understanding bitcoin mining this early on. We will discuss these slightly more advanced concepts in greater detail in our next section, Intermediate Bitcoin.
Who Created Bitcoin?
Bitcoin was created by an unknown person or group of people using the pseudonym, Satoshi Nakamoto. We still don't know the identity of Satoshi but there are a number of theories about their identity.
What Is A Cryptocurrency?
Cryptocurrency is the term used to define digital tokens that use a math-based system called cryptography to send and receive transactions using digital signatures instead of written signatures.
What Is A Blockchain?
Blockchain is the technology that runs Bitcoin. It is the distributed ledger that is maintained by a peer-to-peer network of users who voluntarily run the system in exchange for being compensated in new bitcoins.
What Is A Block Explorer?
Block Explorers are websites that you can use to view information on the blockchain. Think of block explorers kind of like web browsers for the blockchain. You can use them to look up all sorts of info on bitcoin addresses and transactions.
What Is A Bitcoin Wallet?
Bitcoin Wallets are one of the most important and common tools that you will use when you send and receive bitcoin. There are several different types of wallets with each one doing something unique that the other types don't do. It's a good idea to familiarize yourself with bitcoin wallets since they will be one of the most common bitcoin tools that you will use.
Here are some of the Best Bitcoin Wallets
– Bitcoin Mobile Wallets
– Bitcoin Desktop Wallets
– Bitcoin Hardware Wallets
– Bitcoin Paper Wallets
Bitcoin Slang
There are a number of terms that you are likely to hear all over the bitcoin space. Here's a list of the Most Used Bitcoin Slang terms in the industry.
Bitcoin Myths
There is a lot of bad information out there regarding bitcoin. To help new users to better understand what bitcoin IS and what it is NOT, here's our list of the most common myths & misconceptions about bitcoin.
Bitcoin Documentaries
There are lots of good videos on YouTube about bitcoin, the blockchain and how they are going to shape the future so take some time to watch these bitcoin documentaries.
What Is A Bitcoin Address?
If you want to send and receive any bitcoin, you
What is a Bitcoin Address?
What Is A Private Key?
A Private Key is the single most important part of owning bitcoin. It is the "password" that allows you to spend the bitcoin at an address. If you don't control the private key, you don't dontrol the bitcoin.
What Is A Seed Phrase?
In order to keep your bitcoin safe and secure, you need an incredibly complex password. The problem with incredibly complex passwords is that they are difficult for humans to understand. To enable users to have a password that is easy to understand and use, something called a Seed Phrase was invented. This seed phrase is incredibly important and you should NEVER share your seed phrase with anyone under any circumstances.
If your wallets is ever lost, stolen or destroyed, you will need your seed phrase to recover it.
– The Crypto Key Stack
– The Steely
– The Billfodl
How To Buy Bitcoin
There are dozens of services that enable you to buy bitcoin but not all of them are equal. Some services will allow you to buy bitcoin with cash while others require you to have a bank account to make bank transfers from.
If there aren't any bitcoin ATMs in your local community, you may need to buy your first bitcoin from a bitcoin exchange.
What Is A Bitcoin Exchange?
What Is 2FA or 2 Factor Authentication?
What is 2FA or 2 Factor Authentication?
How To Send & Receive Bitcoin
Learning how to send and receive bitcoin is one of the most important steps to getting started with bitcoin. After you have even a little bit of bitcoin you can practice sending to other addresses that you control.
After you feel comfortable sending and receiving, you might want to learn how to accept bitcoin as payment either in person on online using a bitcoin invoice creator or maybe with an online store.
As soon as you have a wallet, you can receive your first bitcoin payment. Since most people buy their first bitcoin from a bitcoin exchange, you may need to buy some bitcoin at an exchange and send it to an address that you control.
What Is A Bitcoin Faucet
What Does HODL Mean and Why Should I Do It?
HODL is one of the most widely used slang terms in bitcoin and for good reason.
Why You Should HODL Bitcoin
Come join us for intermediate bitcoin after you have a firm understanding of all of the above terms and concepts. In intermediate bitcoin, we will learn about more in-depth concepts such as bitcoin mining, how bitcoin transactions work, proof of work, multisig addresses and some of the basic economics of bitcoin.